Discover more from Sonikmatter: An Occasional Newsletter
Mind + Music + Technology
Return of the Mac
Volume 15: And Goodbye iPod...
Gold Coast slave ship bound for cotton fields
Sold in the market down in New Orleans
Skydog slaver know he's doin' all right
Hear him whip the women, just around midnight
Brown Sugar, how come you taste so good?
Brown Sugar, just like a young girl should, oh no
Drums beatin' cold, English blood runs hot
Lady of the house wonderin' when it's gonna stop
House boy knows that he's doin' all right
You should have heard him, just around midnight
The Rolling Stones — Brown Sugar (1969)
For the last four and a half months, I've waited for my new machine to come in. My last Mac bit the dust after a bit of aggressive manhandling, falling out of my backpack on daily bike rides to work more than once, and eventually, the screen died.
Truth be told, it isn't dead, but it did become a desktop as the screen stopped working. But that doesn't work for my lifestyle. I do my best work out of coffee shops. Until crack is legalized, I prefer to freebase espresso as if my life depended on it. My doctor is often amazed that I function with a blood pressure of 190 over 135…and she often jokes that she needs to do a medical study on my unique biology as not having a functional brain means the risk of stroke is essentially mitigated.
Honestly, I need different modalities to do different things. I have two offices in my home…one dedicated to art, another to rote statistical analysis, software development, and technical writing. And my laptop has a few user profiles that have vastly different looks and access to software to ensure that I'm not pulling up Logic Audio when I need to be in Excel and R. And when it is crunch time to put everything to rest without the need for constant revision, I grab a laptop and find a quiet space devoid of anything that might trigger my ADHD.
I guess what I'm trying to say is that I have a lot of excuses for not writing, and as of Monday, the biggest excuse is gone: I am now the owner of a new Mac Book 14-inch M1Pro with 1TB of space and 32GB of RAM. A note two weeks ago informed me that my machine had been built and was ready to make the long journey to America. A day later, I woke up to this article from the New York Post:
Factory workers at a Shanghai facility that makes Apple products rioted on Thursday, clashing with guards in hazmat suits and jumping across security barriers in an apparent mutiny against strict coronavirus restrictions, dramatic social media video shows.

…many Shanghai facilities, including the Apple factory, have sought to keep operating during the lockdown through a "closed-loop" production system. Under this system, employees are generally banned from leaving company facilities even during off-hours and are forced to live and sleep in the factory or at a nearby dormitory. They are not allowed to see other people, including their own family members. 
In the four-and-a-half months that I've waited, a good portion of China has been shut down, aiming for Covid-Zero, and it has been ravishing the world economy with chip shortages and otherwise. When production lines go back into effect, employees have been locked into factories working crowded lines with 3x the average workforce within the same space, up to 18-hour days, essentially as modern-day slave labor: I didn't name my new machine Blood Diamond for nuthin'.
As much as we'd like to pretend we are all woke and enlightened liberal beings of pure light, the fact of the matter is to live in the first world means turning a blind eye to injustices across the ocean. We will willingly throw 40-Billion dollars at Ukraine, but a pittance of this to folks that don't look like us. And we buy from oppressive regimes so long as we can maintain our latte lifestyle and 30-hour work-from-home jobs (link Vulture dot com). 
Why do I feel like such a hypocrite right now?
Now that this machine is here, one of the first things I'm looking into is a new dock for my MacBook. USB-C had its growing pains, and I spent too much on my older machine to get it up to spec. USB-C to HDMI cables and USB-C dongles to connect old audio equipment, but in my studio and my big boy office across town, I wanted to plug one cable in and get to work.
This week, they released a new dock that supposedly gives three additional displays, with two HDMI and one DisplayPort outs. In addition to this, it boasts a 100-watt power delivery port, gigabit ethernet for backing up to your NAS, and several USB-A ports for your legacy devices. 
Check it out at this totally link baited affiliate link from Amazon that may help me pay for this machine: https://amzn.to/3LsOBDG
—
I will have more to say about this in the future, as it will be the centerpiece of my studio, but let's get to the music news:
Superbooth was last week, and I still haven't done enough research on the new products. Superbooth started as an offshoot of MusikMesse in Germany, focusing on the weird and exotic instruments found. For Americans who have traveled to LA for our big show, think about it as the basement of NAMM where the wackjobs set up shop and try to evangelize ideas such as resetting Middle-C to 432hz to resonant with the stars. No, seriously…this was the first time I heard this conspiracy theory, and I've had cults try to recruit me less aggressively. 
In the end, this is always my favorite place to talk to interesting people. And Superbooth seems to be the same thing. Focusing on Eurorack and alternative instruments, tuning scales, and performance methods.
One of the favorites is the Oberheim OB-X8:
If you want to recreate the sounds of Vangelis, this is the instrument to pick up (or maybe just the Deckard's Dream if you are into a more DIY aesthetic).
—
RIP Vangelis
Composer Vangelis, who gave the movie Chariots of Fire its signature synth-driven sound, has died. He was 79 years old. According to his assistant Lefteris Zermas, Vangelis died on May 17 in a hospital in Paris due to heart failure.

Listen to his last album here:

https://www.junotojupiter.com
More Superbooth Links
https://www.musicradar.com/news/superbooth-2022-the-best-new-synths-grooveboxes-modules-and-unexpected-oddities
https://musictech.com/news/gear/superbooth-2022-best-new-synths-eurorack-modular-gear/
https://www.ericasynths.lv/news/superbooth-news/
https://sonicstate.com/news/shows.cfm?show=SUPERBOOTH%2021
DIY Links
Acoustic Hexagons: https://nerdlabprojects.com/projects/4
Hacking the Kurzweil K2500 with NSA Tools: http://blog.petersobot.com/patching-the-k2500
DIY Tools You Need: https://aisynthesis.com/diy-electronics-tools-you-need/
Apple Announces Fix It Yourself: https://512pixels.net/2022/04/apple-launches-self-service-repair-store/
Arduino Sound: https://www.reddit.com/r/synthdiy/comments/sx333u/cheap_simple_arduino_synth_doubles_as_a_variety/
Free Singer/Songwriter Course: https://www.coursera.org/specializations/singer-songwriter
And finally, I've been writing notes for myself as I have been putting together EuroRack devices and following along to my favorite YouTube series:
Reader News:
Reader Q. sends me two items that I should post, but even the first is obscenely graphic in language, obnoxious, and 100% in line with this mailing list's ideals:
Something something, f**k off with these headphones:
Featuring the most advanced electrostatic technology in decades, Audeze proudly introduces the CRBN electrostatic headphone (pronounced "carbon"), which features a new Patent-pending polymer film with suspended carbon nanotubes to eliminate problems commonly found in previous electrostatic designs. Originally developed for MRI medical applications, we've adapted those innovations for the audiophile version of CRBN, which top audio professionals have called the best sounding electrostatic headphone to-date.
Get this: only $4,500!!! It's a deal at twice its price!
Reader Music:
Longtime (20+ years!!!) Sonikmatter reader Antonis ('Underground') sent me his latest album! Available on Bandcamp for only 9EU…take a listen!
Support Your Fellow Artists: Link to Album
Videos:
(Once again, thanks Q for the recommendation!)
Interesting Creation of the Week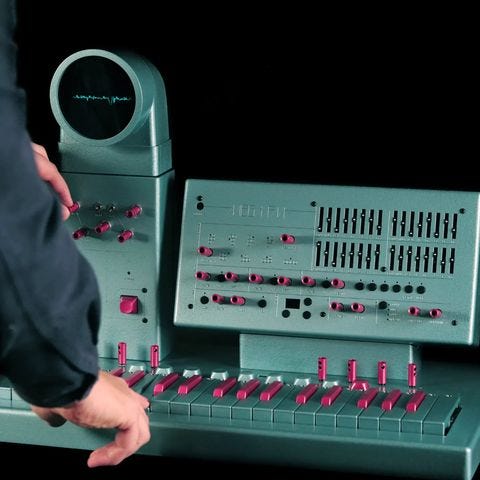 This is a custom design by Love Hulten combining at least three devices: the Mega FM, Keystep37, and Bluesky. No clue about the oscilloscope. Check out the Instagram, and then checkout the individual components to try to see how they put it all together!
---
Sonikmatter: Mind + Music + Technology
An occasional newsletter. Barely fact-checked and often wrong.
And with this, I conclude the May 2022 offering of this newsletter. You may see more frequency now that I'm mobile again. I've reached out to several folks for interviews, and so far…all have agreed! Are there people you want to hear from? Would you like to be interviewed? Do you want to guest write for this blog? I'm hoping that we will see some new changes.
As a sidenote — I've done some calculations, and over the last few weeks, it has taken me approximately 8 hours to compile all the links and write this up. The write-up alone took two hours. If you support what I'm doing, encourage others to read this. Share it on social media. Send it to a friend via email. Bribe your obnoxious neighbor that writes community newsletters. Whatever you have to do! I will have a giveaway at 1000 subscribers. Ok…probably just a t-shirt, but what do you expect for free!!!
(Note: This post MAY have been accidently sent to you twice! If it has, I apologize!!!)
Additionally, if you'd like your music or project to be featured old-skool style, call (415) 683-1381 and sing, rawk, or prog into the answering machine! We will post it!!!
Mail to the Editor: Zampino @ sonikmatter.com